GATSBY!
More than Merely Great
There aren't enough superlatives
for Fitzgerald's third novel
3rd month of F. Scott Fitzgerald reading challenge, 3rd novel, The Great Gatsby (1925)
This is the big one, of course, the novel judged the best American work of the entire 20th century (and the 2nd best only to Joyce's Ulysses among all English language works), the novel everyone from teens to their English teachers to their grandparents adores.
This is The Great Gatsby.
I had only ever read two of F. Scott Fitzgerald's novels. But his first, This Side of Paradise, turns 100 this year and new "Collector's Editions" of all five are out from his old publisher Scribner, now part of Simon & Schuster. (True, the more likely motivation is that the brilliant and lucrative Gatsby slips into the public domain a month from now, on January 1. Scribner may as well make whatever Gatsby money it can from its waning exclusivity.) These new editions, combined with Independent Bookstore Day on Aug. 29, gave me an excuse. I ordered one each from five of my favorite indies, to read one a month. (Shoutout here to Books to be Red in Ocracoke, N.C., for The Great Gatsby.)
The first two were sparkling, the unveiling of genius to come. This third one is, well, Gatsby.
Four quick thoughts.
1. THE LONGEST SHORT BOOK I'VE EVER READ
Sounds like criticism, doesn't it?
It's not. Not even a little bit.
It's supreme praise.
Gatsby is only 47,000 words long, little more than a novella. (Joyce used 265,000 for Ulysses.) In fact, one of the few shorter literary classics I know of — Hemingway's 27,000-word The Old Man and The Sea — is often called a novella.
Yet the book is packed with brilliance. Packed with action. A lot happens. A lot. The book sometimes moves with the speed and power of a freight train. The party scenes are legendary. A revealing five-person conversation in a hotel simply crackles; you turn the pages as fast as you can. And the physical action is still to come.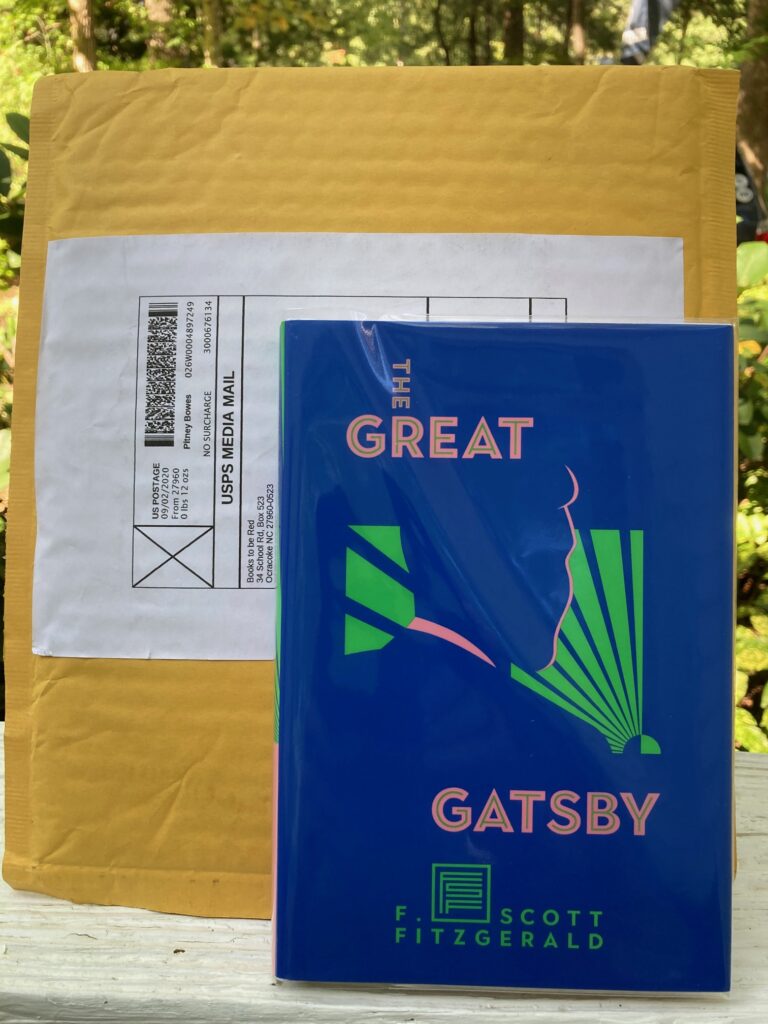 2. SPOILER ALERT! . . . FSF COULD WRITE.
One of the games Fitzgerald fans play is pulling out their favorite passages, one after another, simply to show how much better a writer he is than almost anyone else.
Dazzling passage after dazzling passage.
Possibly the book's most famous sentence, for instance, is the concluding one:
"So we beat on, boats against the current, borne back ceaselessly into the past."
True, that wraps the book up poignantly. Without the preceding paragraphs, however―indeed, without the preceding book―it's confusing.
So let me go a different way. Rather than showing off Fitzgerald's words for the sake of showing off, let's pull out a few character descriptions. They're rich and descriptive, without giving away plot.
ON GATSBY:

"He smiled understandingly ― much more than understandingly. It was one of those rare smiles with a quality of eternal reassurance in it, that you may come across four or five times in life. It faced ― or seemed to face ― the whole eternal world for an instant, and then concentrated on you with an irresistible prejudice in your favor. It understood you just as far as you wanted to be understood, believed in you as you would like to believe in yourself, and assured you that it had precisely the impression of you that, at your best, you hoped to convey."
AND MORE: "If personality is an unbroken series of successful gestures, then there was something gorgeous about him, some heightened sensitivity to the promises of life, as if he were related to one of those intricate machines that register earthquakes ten thousand miles away. This responsiveness had nothing to do with that flabby impressionability which is dignified under the name of the "creative temperament"― it was an extraordinary gift for hope, a romantic readiness such as I have never found in any other person and which it is not likely I shall ever find again. No― Gatsby turned out all right at the end; it is what preyed on Gatsby, what foul dust floated in the wake of his dreams that temporarily closed out my interest in the abortive sorrows and short-winded elations of men."
ON DAISY: "Her face was sad and lovely with bright things in it, bright eyes and a bright passionate mouth, but there was an excitement in her voice that men who had cared for her found difficult to forget: a singing compulsion, a whispered 'Listen,' a promise that she had done gay, exciting things just a while since and that there were gay, exciting things hovering in the next hour."

ON GATSBY'S AND DAISY'S RELATIONSHIP:

"His heart beat faster and faster as Daisy's white face came up to his own. He knew that when he kissed this girl, and forever wed his unutterable visions to her perishable breath, his mind would never romp again like the mind of God. So he waited, listening for a moment longer to the tuning fork that had been struck upon a star. Then he kissed her. At his lips' touch she blossomed like a flower and the incarnation was complete."
There are other significant characters and descriptions of them, and countless more I've left out on the principals, of course. . . .
Already I'm wondering if I should have chosen four or five different quotes.
3. READING THE BOOK IS ENHANCED BY KNOWING FITZGERALD'S LIFE.
Gatsby is the only one of the five new editions not to have explanatory notes by James L.W. West III, editor of the 18-volume Cambridge Edition of the Works of F. Scott Fitzgerald and an acknowledged authority on FSF. That's a shame. The notes have been invaluable explaining the times and references, and I missed them in Gatsby. (I should admit to cheating by being able to get half of them on the Amazon page for West's new The Great Gatsby: The Variorum Edition. . . . not that I'm suggesting anyone else do that.)
I did have two of West's other works, however. I picked up F. Scott Fitzgerald: A Short Autobiography, a collection of FSF's first-person pieces arranged chronologically. They are magazine pieces mostly and give an idea of what he was experiencing as he was writing his classic novels. As an aside, they reveal something I hadn't realized: Fitzgerald was quite funny.
Through West himself, I received a copy of his The Perfect Hour: The Romance of F. Scott Fitzgerald and Ginevra King, His First Love. Ginevra King is not the love anyone remembers these days ― that would be Zelda, of the "Scott and Zelda" that came to define the Jazz Age of the 1920s ― but she was important. Ginevra inspired countless characters in Fitzgerald's short stories, two separate characters in This Side of Paradise and, most notably, Daisy Buchanan in Gatsby. Indeed, not only was Ginevra gorgeous and captivating, an exemplar of living life with few restrictions, but she was a prolific writer. That was key. She wrote Fitzgerald countless letters during their romance, extraordinarily descriptive letters that helped define who she was. He kept them, reread them frequently, and pulled rich descriptive material from them. To say they not only fleshed out his writing but even inspired some of it would not a stretch.
So now you know the secret to great writing . . . Save those letters!
4. THIS IS A NOVEL WITH SOMETHING TO SAY.
The Great Gatsby is not only a book with rich plotting. It is not only a book with brilliant wordsmithing and literary flights of fancy. It is also a book with something to say.
Sort of the definition of a classic, you might say.
(I should add, as a several-times reader, the book has different things to say at different times. Jesmyn Ward, in this edition's introduction, notes an adult's reaction is far different than a teen's. "This is a book that endures generation after generation," Ward says, "because every time a reader returns to The Great Gatsby, we discover new revelations, new insights, new burning bits of language.")
Fitzgerald's was a somewhat disillusioned view of life to be sure, or perhaps it was just that of a realist. I'm constrained in describing too much here, because of the notion of spoilers.
But there are a few indications:
"I felt a haunting loneliness sometimes, and felt it in others–young clerks in the dusk, wasting the most poignant moments of night and life."

"There must have been moments even that afternoon when Daisy tumbled short of his dreams — not through her own fault, but because of the colossal vitality of his illusion. It had gone beyond her, beyond everything. He had thrown himself into it with a creative passion, adding to it all the time, decking it out with every bright feather that drifted his way. No amount of fire or freshness can challenge what a man will store up in his ghostly heart."

"I couldn't forgive him or like him, but I saw that what he had done was, to him, entirely justified. It was all very careless and confused. They were careless people, Tom and Daisy—they smashed up things and creatures and then retreated back into their money or their vast carelessness, or whatever it was that kept them together, and let other people clean up the mess they had made."

"I was within and without, simultaneously enchanted and repelled by the inexhaustible variety of life."
Give this book a chance, and you will be changed by it. Read it every 10 years or so, and you'll be surprised that it changes, too.
Great seems too small a word for this book. The Great Gatsby is not a perfect book. No book is.
But it will do until one comes along.