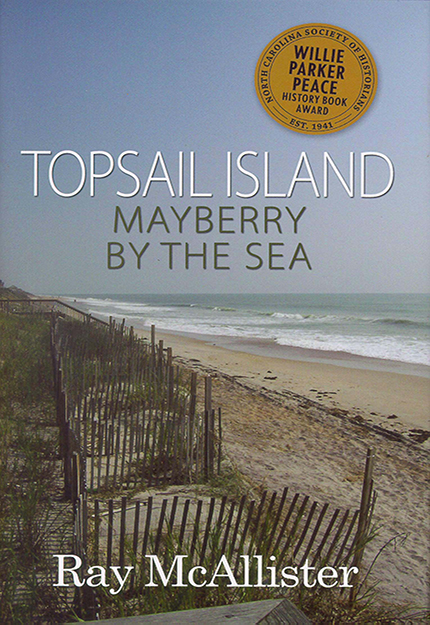 TOPSAIL ISLAND

Mayberry by the Sea

(NOTE: First edition, pictured, is out of print, Nov. 1, 2020)
Watch for a new
expanded & updated 2nd Edition

COMING MARCH 2021
Topsail Island is a North Carolina barrier island lying between the Outer Banks and Wilmington. Though 26 miles long, it is but 200 yard wide in places and encompasses only 15 square miles. Residents and visitors call it a stretch of paradise.
    Topsail remains largely in the idyllic state other islands knew half a century ago — a small beach town with few commercial trappings, a family haven whose devotees return generation after generation, a paradise where it's possible to rise over the Atlantic Ocean and set over Topsail Sound from the same cottage.
    But Topsail's outward simplicity belies its rich history and complex future. The island's name.  It have been born the pirate Blackbeard hid his ship behind the island, lying wait. Those strange block-like towers spaced along the beach. Remnants of a top-secret missile program. The modest old-time cottages with the whimsical nameplates? They've survived some of the worst storms Mother Nature has devised, only to see their owners tempted by developers offering big money for the land on which they sit.
    Then there are the giant sea turtles, the Gold Hole, and even a traveling bear. In Topsail Island: Mayberry by the Sea, author Ray McAllister tells the many stories of Topsail with the help of those who know the island best.

WINNER OF THE NORTH CAROLINA SOCIETY OF HISTORIANS HISTORY BOOK AWARD
        Nominee for the Library of Virginia Literary Award
"McAllister takes loving and telling recollections of Topsail — his and others — and mixes in history and vacation tips. … A worthy companion to take on your trip to the coast."
"Fascinating stories and tales [in[ a beautiful book." Named Book of the Month.
–WAAV-AM NEWS TALK RADIO, WILMINGTON, N.C.
"An entertaining book blending current-day interviews with a dollop of island history."
—TOPSAIL MAGAZINE
"Ray's probably in trouble with [those who want to keep Topsail secret], but not with those of unfamiliar with Topsail's allure, though both groups will like his book."
–THE RICHMOND TIMES-DISPATCH
"A great read for a day in the sun that stretches into an island night, complete with pounding waves and soft sea breezes, enhanced by mystical tales of pirates and search for buried treasure. … 'Everybody needs a little sand in their soul,' McAllister quotes from an interview.
Topsail Island: Mayberry by the Sea helps put it there and can make the reader who is not on the island want to cross that swing bridge and experience that little bit of magic."
–THE PENDER POST
"McAllister captures the spirit of Topsail Island. … There's no doubt that the island is magical indeed."
—OUR STATE NORTH CAROLINA MAGAZINE
*
Signed Books, and Stickers, with FREE Shipping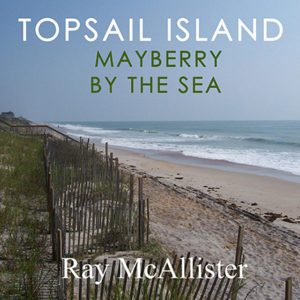 Topsail Island Audiobook, Read by Actor John Witt
$19.95 — or FREE with Audible Trial Membership
(Book is yours to keep even if you cancel!)
https://www.audible.com/pd/Topsail-Island-Audiobook/B010RJQGCY?qid=1541272377&sr=sr_1_1&ref=a_search_c3_lProduct_1_1&pf_rd_p=e81b7c27-6880-467a-b5a7-13cef5d729fe&pf_rd_r=7QNR91Q4A8TY81DF0M08&
*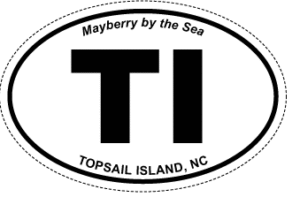 TI Stickers (3 x 4-1/2 inches)

$3 each, or 3 for $5, with FREE shipping