IT'S HERE!
The
NEW
Topsail Island: Mayberry by the Sea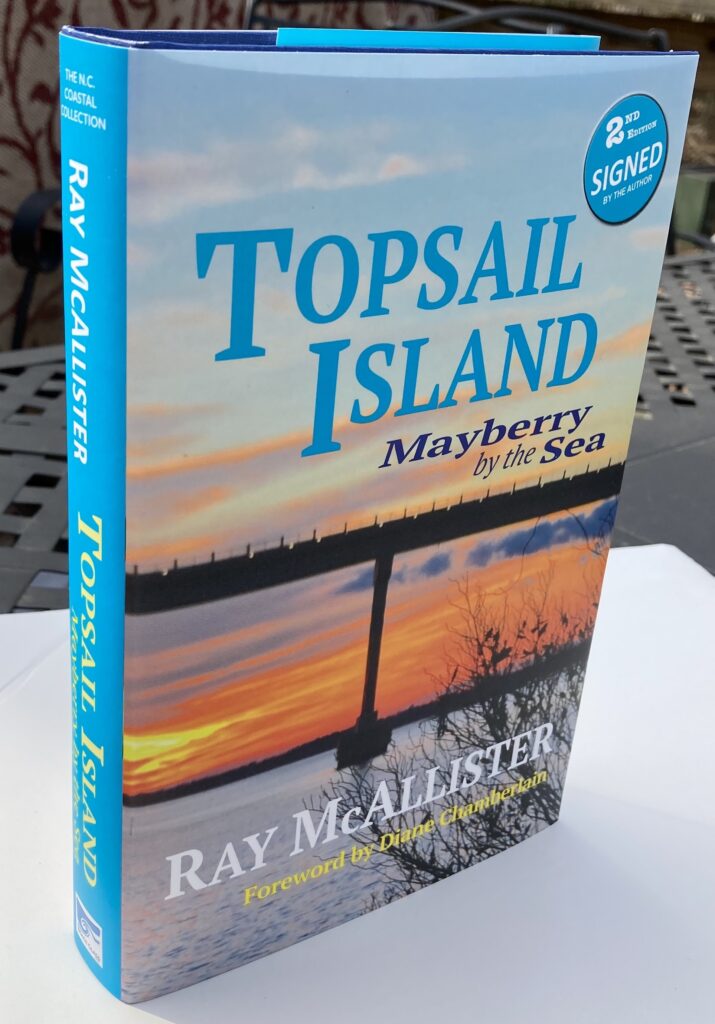 CLICK HERE to watch the Virtual Launch Event with Quarter Moon Books & Gifts
CLICK HERE to watch the Virtual Launch Event with Fountain Bookstore
*
BUY THE BEST TOPSAIL ISLAND GIFT OF THE YEAR … NOW!
Signed Hardcovers $28 + FREE shipping
Paperbacks $22.95 + FREE shipping

Want it faster? Add "PRIORITY MAIL UPGRADE" for $5
*
"This second edition is a breeze, a quick lively read that really gives you that take-you-there feeling for this North Carolina barrier island. You can simply sit back and enjoy new adventures of Topsail. . . . This version has all the components for another regional best-seller, especially entertaining for those newcomers of recent years." READ MORE

— KALE ON BOOKS syndicated newspaper column
*
WHERE ELSE TO BUY THE SECOND EDITION:
*
The NEW expanded and updated 2nd edition of Topsail Island: Mayberry by the Sea, by award-winning coastal author Ray McAllister!
Beach Glass Books is proud to announce the 2021 publication of the NEW Topsail Island: Mayberry by the Sea in signed hardcover, unsigned paperback, and eBook formats. An audio book will follow. The new publishings mark the 15th anniversary of the original publication of the award-winning book by John F. Blair, Publisher.
This is no mere reprinting. The new edition is much bigger – and better – featuring larger pages and photographs, as well as more than 100 pages of new material – plus a foreword by renowned author Diane Chamberlain.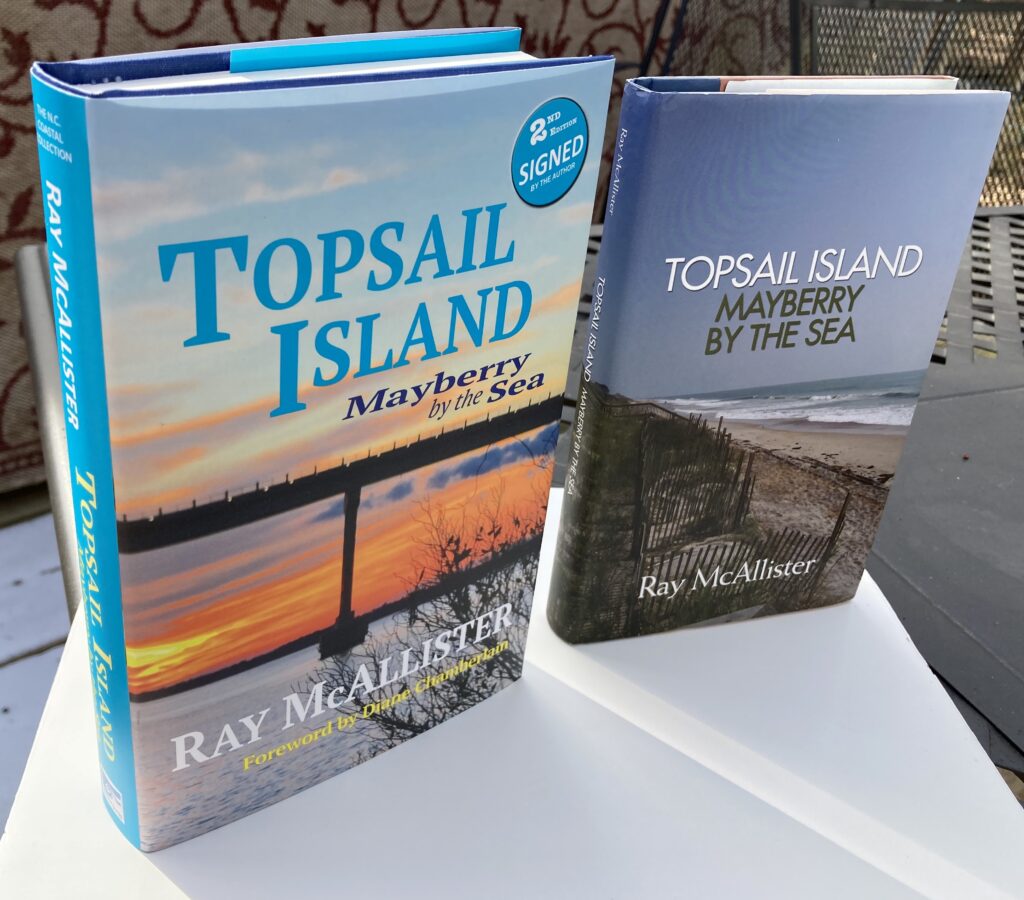 The award-winning Topsail Island shares the history, people and continuing allure of the beloved North Carolina island with the small-town feel. Here are stories of the top-secret missile program, the mysterious "Gold Hole," and the monster hurricanes Hazel, Bertha, and Fran. Here are giant sea turtles, and a traveling bear, plus old-time fishing piers and beach cottages with whimsical names. Here are vacationers, picture takers, surfers and fishermen, and musicians. Here are the many who share their love of Topsail.
This new edition adds the story of the iconic Swing Bridge and its replacement by a sweeping modern bridge, the devastation brought by Hurricane Florence and a pair of large fires, and the continuing "Topsail" feel nourished by small-town shops and festivities. Here, too, is an expanded story of the historic Ocean City "Black beach," and newly presented stories of the massive whale carcass dragged to Topsail's shores, an unexpected tornado, and the century-old mystery of the captain found in his wrecked ship, a bullet through his head.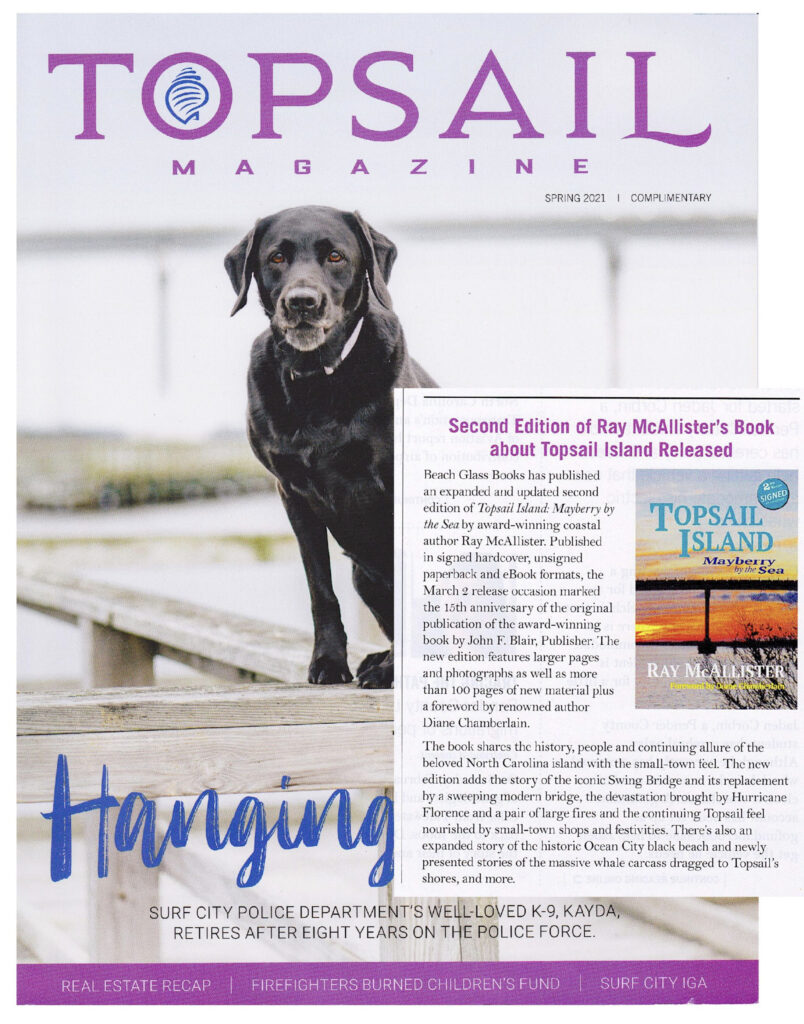 Topsail Island: Mayberry by the Sea, 2nd Edition,
March 2, 2021, by Beach Glass Books.
Signed hardcover, $28.00 retail. 5-7/8 x 8-3/4, ISBN: 978-1-7361321-0-4.
Paperback, $22.95 retail. 5-1/2 x 8-1/4, ISBN: 978-1-7361321-1-1.
352 pages, 150+ photos/illustrations
*
WINNER OF THE NORTH CAROLINA SOCIETY OF HISTORIANS HISTORY BOOK AWARD
Nominee for the Library of Virginia Literary Award
"McAllister takes loving and telling recollections of Topsail — his and others — and mixes in history and vacation tips. … A worthy companion to take on your trip to the coast."
"Fascinating stories and tales [in[ a beautiful book." Named Book of the Month.
–WAAV-AM NEWS TALK RADIO, WILMINGTON, N.C.
"An entertaining book blending current-day interviews with a dollop of island history."
—TOPSAIL MAGAZINE
"Ray's probably in trouble with [those who want to keep Topsail secret], but not with those of unfamiliar with Topsail's allure, though both groups will like his book."
–THE RICHMOND TIMES-DISPATCH
"A great read for a day in the sun that stretches into an island night, complete with pounding waves and soft sea breezes, enhanced by mystical tales of pirates and search for buried treasure. … 'Everybody needs a little sand in their soul,' McAllister quotes from an interview.
Topsail Island: Mayberry by the Sea helps put it there and can make the reader who is not on the island want to cross that swing bridge and experience that little bit of magic."
–THE PENDER POST
"McAllister captures the spirit of Topsail Island. … There's no doubt that the island is magical indeed."
—OUR STATE NORTH CAROLINA MAGAZINE
*
Hear the Topsail Island AUDIO BOOK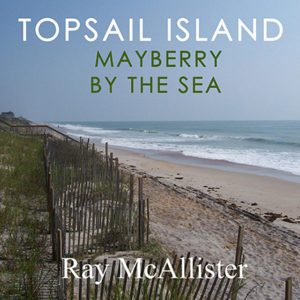 Click here to hear a sample and learn how to get a free copy of the Topsail Island 1st Edition audiobook
*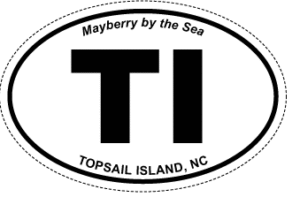 TI Stickers (3 x 4-1/2 inches)

$3 each, or 3 for $5, with FREE shipping