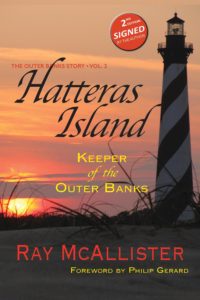 HATTERAS ISLAND
Keeper of the Outer Banks
2nd Edition
Signed Hardcover: ISBN 978-0-9987881-5-9. Pub. 2019. 5-7/8 by 8-3/4 inches.

Paperback: ISBN 978-0-9987881-9-7. Pub. 2020. 5-1/2 by 8-1/4 inches.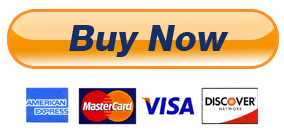 By mail: Send $25 (hardcover) or $18.95 (paperback) to Ray McAllister Books LLC, PO Box 72672, North Chesterfield, VA 23235. For Priority Mail ppgrade, add $5.
For a remote patch of real estate with a year-round population of little more than 3,000, Hatteras has witnessed extraordinary. It may have been the destination of the Lost Colony. Blackbeard likely hobnobbed with the locals. The Monitor went to its watery grave nearby. Radio towers on the island made history's first transmission of music and received the distress call from the Titanic. Billy Mitchell proved the ascendancy of air power by sinking a pair of mothballed battleships offshore. Bodies washed up on the beach following U-boat attacks during World War II. The surfmen of the island's lifesaving stations made some of the most heroic rescues ever. And the coastal icon, the Cape Hatteras Lighthouse, has stood watch.
[br]
But Hatteras Island: Keeper of the Outer Banks is more than a history. It is rather, as author Ray McAllister says, "a conversation with an island." It tells of a vacation paradise that can change instantly into a storm center, of a resort island kept largely free of development — but hardly of controversy — by a national seashore park. It tells of the hardy few who brave the Hatteras winters, those who come to catch record-sized fish from the piers, those who travel disaster-prone Highway 12 and who drove the bare sand before it, those who stood and watched as a 208-foot lighthouse was moved half a mile.
[br]
"Pull up a chair," McAllister says. "Have a listen."
*
* NORTH CAROLINA SOCIETY OF HISTORIANS HISTORY BOOK AWARD
* NATIONAL READERS' FAVORITE BOOK AWARD

*
NOW UPDATED AND ENLARGED IN A NEW 2ND EDITION FOR 2019
*
"Every line of this colorful, detailed, fluently written and thoroughly enjoyable portrait of Hatteras Island brings the place to vivid life. Ray McAllister transports the reader into a starkly beautiful landscape of sand, shaped by wind and pounded by tide. The scrappy islanders talk to the reader like old friends, and their history unravels as fascinating personal stories. As I read his book, I had to resist the urge to get in the car and drive until I came once again under the compass of that tall striped lighthouse and could commune with the ghosts of those old-time keepers."
–PHILIP GERARD, AUTHOR OF HATTERAS LIGHT AND CAPE FEAR RISING
*
"Ray McAllister's storytelling is superb. … This is one accessible book — so much to enjoy."
—THE NORTH BEACH SUN, OUTER BANKS, N.C., BILL RICKMAN
*
"McAllister's style is powerful, poetic, yet very easy reading. … If you love not just the Outer Banks but its heart and soul, Hatteras Island: Keeper of the Outer Banks, you will love this treasure."
—THE COASTLAND TIMES, MANTEO, N.C.
*
"Easygoing essays on a number of enthralling topics. … Hatteras Island is a keeper."
–WILMINGTON STARNEWS, BEN STEELMAN
*
"Brimming with history, [Hatteras] is also a relaxed and relaxing place where beach-lovers can find. peach. As such, McAllister, though writing of Hatteras' long history, instead calls this book a "conversation with an island." It's a conversation to be savored, in a hammock at a beach house in July or under a blanket in an armchair in January.
—THE RICHMOND TIMES-DISPATCH, JAY STRAFFORD

*
"Pirates, hurricanes, endless summers, shipwrecks, U-boats and the restless eternal seas. They're all here in this elegant meditation on Hatteras Island, it's history, and its people. In the hands of a master storyteller, the allure of the Outer Banks comes palpably to life."
–NELSON D. LANKFORD,
Author of CRY HAVOC! The Crooked Road to the Civil War, 1861
*
Signed Books, and Stickers, with FREE Shipping
BUY NOW!
Signed Hardcovers $25 + FREE shipping
Paperbacks $18.95 + FREE shipping

Want it faster? Add "PRIORITY MAIL UPGRADE" for $5
*
HEAR THE HATTERAS ISLAND AUDIO BOOK
*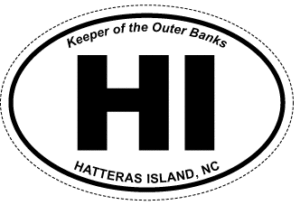 HI Stickers (3 x 4-1/2 inches)

$3 each, or 3 for $5, with FREE shipping