First today's big event was canceled,
then today's big event was canceled
Today was the big day. Twice.
This was the public start of the fabulous Bizarre Bazaar in Richmond, Va. Or it was until it was canceled for the coronavirus. Understandable, of course. These days, it's as impractical to hold a massive Christmas show as to go on a cruise ship and kiss all the passengers.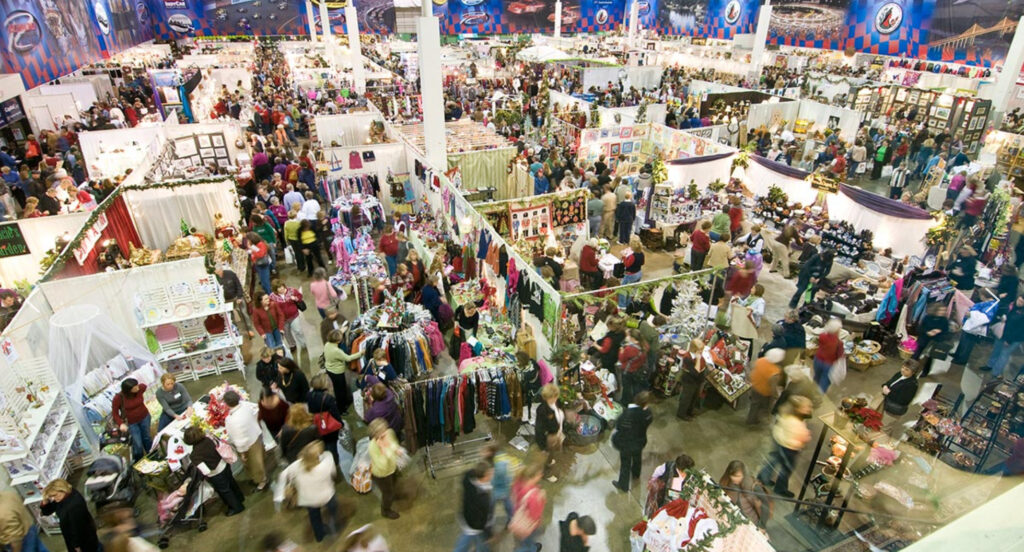 Still, we miss it. We've been bringing books and such to the Bizarre Bazaar since we were first invited in 2006, the year my Topsail Island: Mayberry by the Sea came out. (If you're counting, this would have been our 15th show.) We sell literally hundreds of books and, better, we meet literally thousands of people.
We see friends from years ago whom we never see any other time of the year. We spend five minutes catching up — and are just as excited to catch up the following year. We spend moments here and there between customers chatting with booth neighbors, who have become friends, too. We go out to dinner with some. Then there are the many customers we've seen over the years, who stop and talk year after year, seeing what new books or other items we have, maybe buying, maybe not, but always sharing holiday good will.
Stuff you remember, in other words.
When this year's show was canceled, it was completely expected — and completely heartbreaking.
I got a chance to heal the wound when one of my favorite bookstores, Fountain Bookstore of Richmond, Va., offered the chance for a virtual chat. It's what authors and stores do these days, you know. ("Book Signings in the Age of Covid.")
I know a lot of owners of a number of small independent bookstore ("indies") in Virginia and North Carolina. These people are all incredibly smart and passionate, and they work their tails off. They have to be, with the advent of online sellers with far less overhead — and far less investment in the community — including the one I oh-so-affectionately refer to as "the A-word."
Fountain, owned by Kelly Justice, was perfect. One of my favorite bookstores. Same city as Bizarre Bazaar. No doubt a lot of the same customers. I was given a couple dates from which to choose — and jumped on today, Thursday, Dec. 3, what would have been the start of the show. Topic: the Outer Banks. I would talk about the OBX, a new edition of one of my books (Hatteras Island), and a very funny collection of another writer, Jack Sandberg, whose works I was able to bring back in Uncle Jack's Outer Banks.
Then two days ago came the word. The event was postponed.
It was a necessity. "We are sorry to announce that, despite every effort, Fountain Bookstore now has a confirmed case of COVID-19. To protect the booksellers and public, we will suspend curbside service until all staff are tested," Kelly said in a mass email. An assistant emailed me: "We are all waiting until test results come back to get cleared for return to the store and once we're up and running, Kelly will be back in touch."
So sad news for sure.
We'll hope to see you again next year, somewhere. I am happy, at least, that through Beach Glass Books, Outer Banks books are being offered at a Buy-2-Get-1-Free Sale (with free mailing) for the next week. The free book is the fantastic afore-mentioned Uncle Jack.
More important, though, please support any shop owners you can. Booksellers for sure, but ALL small stores need our help.
And let's hope and pray everyone stays as safe as possible during the holidays and the bad months ahead.
Eventually, this will end. It would be nice if we're all here to see it.