Scenes from Hatteras Island
Rising Waters, Rising Bridges, and an Old, OLD Bookstore Building That Looks Brand New . . . and Fantastic!
A few weeks ago, we drove the length of the North Carolina's wonderful Outer Banks, emptying out an SUV of books at bookselling shops along the way. These trips are always a joy, allowing us to visit the Banks, to see old friends, and to sell some books, of course.
This year was a little different, however. For one thing, crowds were bigger than usual in May, likely in part to the gotta-get-away-to-the-beach anxiety generated by a year of Covid isolation. But there was a difference with the Outer Banks themselves—specifically, the ever increasing evidence of the rising seas . . . and the ups and downs you now must drive from Nags Head all the way through to Ocracoke Island. (Make sure you read "Scenes from Ocracoke," too!)
As I've explained in the new edition of twice-yearly publication I edit for the Friends of Portsmouth Island*:
Driving south of Nags Head, we now crossed both the new sweeping Basnight Bridge and the shorter new Richard Etheridge Bridge, one bridge a larger replacement, the other a complete newbie, each necessitated by more water.
Driving onto Hatteras Island, we reached the outskirts of Rodanthe. Because of Covid, we hadn't been down this way since 2019 and . . . wait, what is this?! Off to the right, a huge curling bridge is rising. Turns out this Rodanthe "Jug Handle" Bridge, when completed less than a year from now, will raise the highway 30 feet above water and land . . . for 2.4 miles!

Doctor's Creek Journal, Spring-Summer 2021, Vol. 31, No. 1
* A fantastic group that, together with the National Park Service, helps keep the now-deserted "Ghost Island of the Outer Banks" alive. It is also an absolutely fantastic group that YOU NEED TO JOIN. (C'mon, it's only $15 a year.)
But even a better new sight to me is the new Buxton Village Books.
Calling BVB "new" might seem odd. Gee Gee Roselle opened the shop in 1984, after all. Gee Gee still runs it.Moreover, the building was old when she opened the shop. And we do mean OLD. It was built about 1860.
And we do mean 18-60.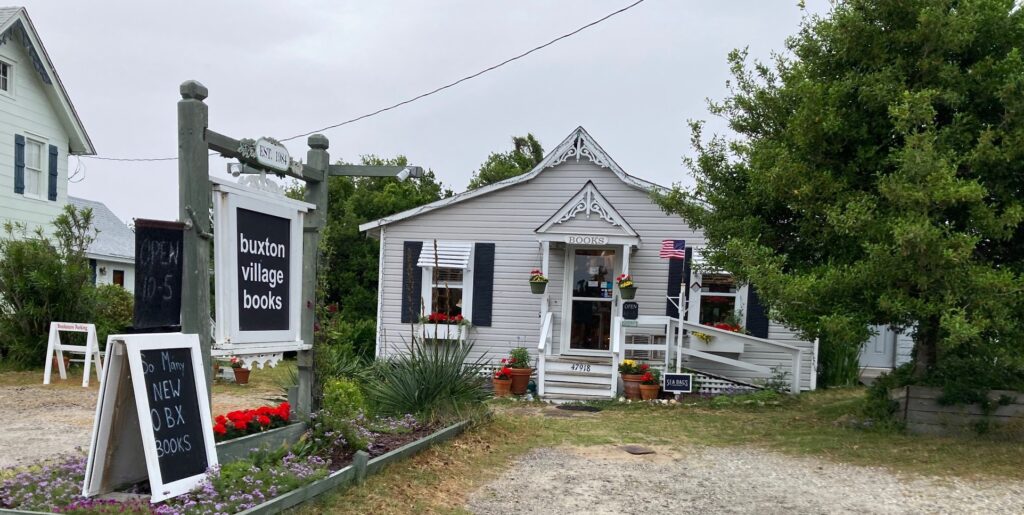 As always, we stopped by this, the only full bookstore on the island, as we've been doing since I began researching my Hatteras Island: Keeper of the Outer Banks. The first edition came out in 2009, and the second edition in 2019, and Gee Gee was a source for both editions. She's a good friend, too, and a fellow bibliophile, and, moreover, a birthmate. We share the same birthdate, in other words. Not just a birthday, but the actual year, too.
So I've known for a while that she had some major renovation ideas floating out there. But I didn't have a feel for HOW major they were. Nor did I know the building's backstory. In a nutshell, it had begun life as a kitchen — yes, a kitchen — way down at the end of the island in Hatteras Village. A century later, it was — ready for this? — floated up the Pamlico sound to Buxton. Zounds! Now six decades later, it was being both restored and improved.
Gee Gee has just written up this story for the Island Free Press. (I urge you to read the story here.) She gave me permission to quote from it, too. Here's how the story begins:
During the pandemic winter of 2021, the interior of the Buxton Village Books building underwent a transformation. I had been planning all of these projects for many years. In 1984, when I opened Buxton Village Books, the original 1860 building was two rooms, two porches, and a galley kitchen. Over the years, I've added several rooms until today we have eight rooms and a front porch.
But long before I occupied the building, many layers of remodeling had taken place. As we began the process of planning the revitalization of the building, we aimed to peel back all the layers to reveal any of the original, 1860 structure that remained. Our goal was to not create a museum, but to preserve and showcase whatever history we found, and also make the building functional and comfortable for contemporary use. We were astounded to find so much original material intact.

"Evolution of a Building: The 1860 Home to Buxton Village Books Undergoes a Big Renovation," Island Free Press, June 7, 2021
Removing layers of sheetrock, paneling, and paint, Gee Gee and company got down to the original materials. That include finding ceiling beams made from shipwreck timbers. (If you know your Outer Banks history, you know that frequent shipwrecks gave Bankers not only building materials from the ships but also goods from their cargoes.)
So ceilings are vaulted now, there's much more light, both natural and electrical, and the whole place feels very inviting.
"We do hope you like what we've done," Gee Gee. "Our building is still the vintage treasure it always was, but now it's light, bright, and airy, and we are looking forward to another 37 years of bookselling!"
So is anyone who's ever walked in the door.