And, no, I can't play a lick
What do Dave Clark, Steve Miller, Bon Jovi, Van Halen — and now I, yes I — have in common?
We've all given our names to rock bands.
There is but one difference. Those eponymous bands (eponymous being a pretentious word meaning, "giving a name to something else") feature the eponym (haha! another pretentious word) as the principal performer. The Ray McAllister Band does not.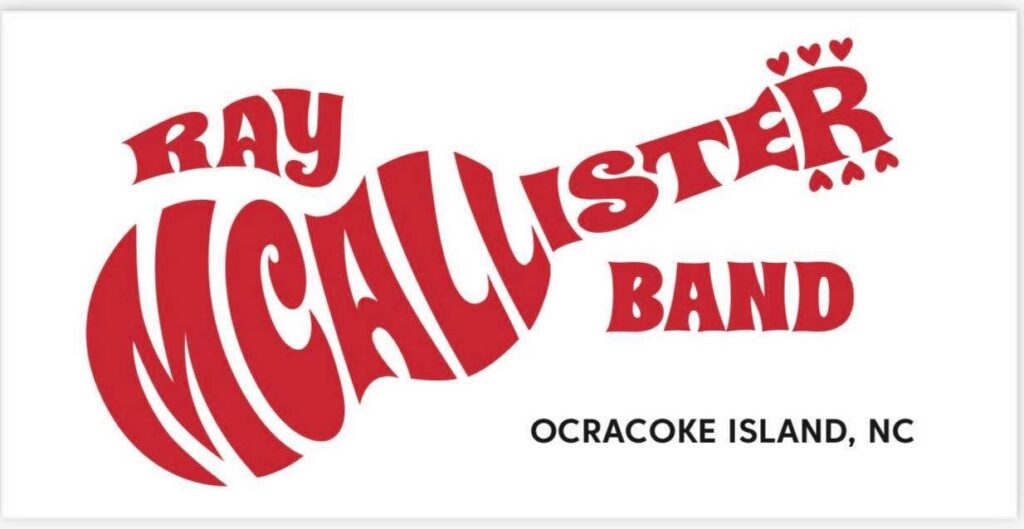 I'm not actually even in my own band.
(The band members, I'm sure, are fine with that, given that I have no idea how to play an musical instrument. I am, as well, a bad singer.)
But the actual Ray McAllister Band, actually named for me — this is not a joke — begins play this Friday, from 7-10 p.m. at DAIJIO in Ocracoke, which is on Ocracoke Island, one of the best places in North Carolina's wonderful Outer Banks.
(Wonderful, I mean, unless there's a hurricane. But that's for another day.)
Before I tell you this bizarre story, let's meet the band members, who have played live music for more than 30 years:
Tommy Hutcherson – Drums and background vocals. Moved to Ocracoke from VA Beach, VA in 1983 because his family bought the Ocracoke Variety Store. He is still there 39 years later and still loving it. Played with the Ocracoke Rockers for the last 30 years. Ocracoke Rockers are an iconic Island band lead by Martin Garrish. Tommy is now also Chairman of the Board at WOVV 90.1 FM, Ocracoke Community Radio. He also deejays private events such as weddings under the alias DJ Tommy.
Ray Murray – Lead singer, lead and rhythm guitar. Moved here from Richmond, VA. Bought Zillies Island Pantry on Ocracoke Island in February 2020. He is the owner and operator. Ray has played with several bands around the Richmond area and has played many solo acoustic gigs. Played solo acoustic gigs on Ocracoke before moving here.
Russ Reynolds – Lead and rhythm guitar, background vocals. From Raleigh, NC. Moved to Ocracoke 3 years ago after selling his video production company. Played with several bands in Raleigh Including the almost famous "Dune Dogs," who play on Ocracoke several times a year. Also played with Tommy in the Ocracoke Rockers for the last several years.
Jack Willis – Bass guitar. Island native who has played bass virtually all of his life. Played in many bands including a duet acoustic gig with Aaron Caswell (island native) on Ocracoke and on the entire Outer Banks. Currently lives in Ahoskie, NC, but commutes home regularly. Also plays with a country band and plays and tours extensively in normal summer months. Retired captain from NC ferry division. Jack is also a very good sound technician and a trusted sound man for many events and larger bands that tour through eastern NC.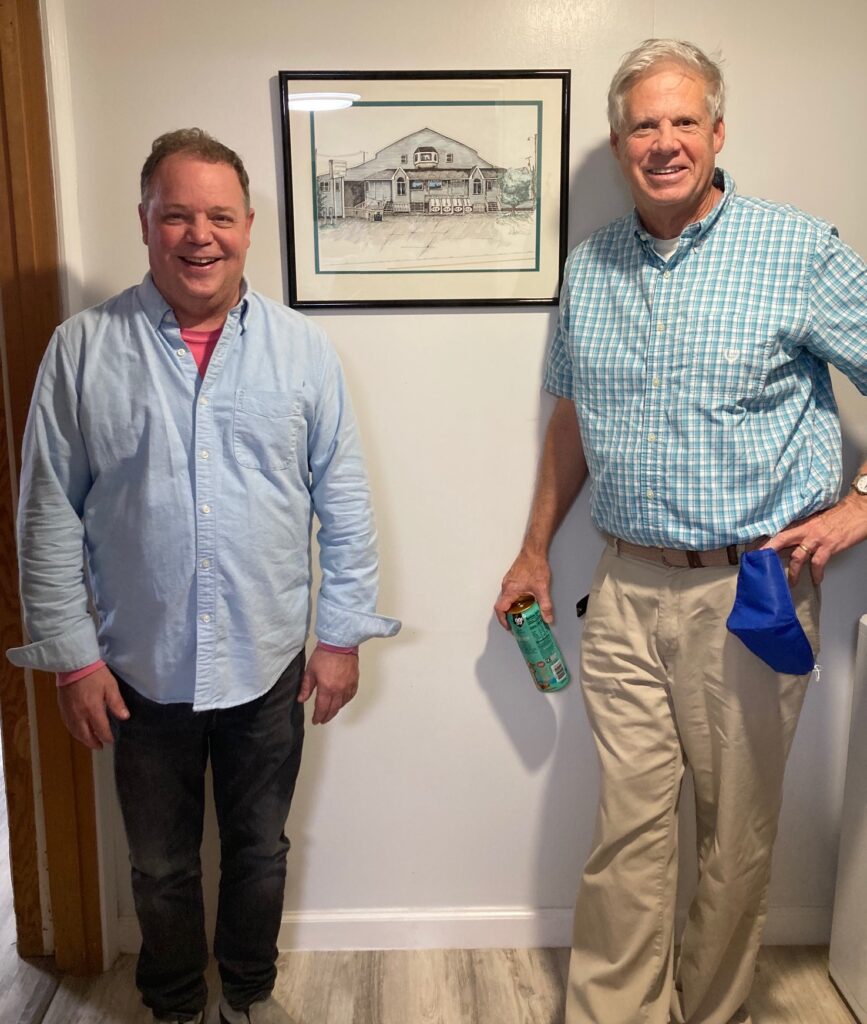 Pretty impressive, huh.
In fairness, the only one I know is Tommy (left). As the owner of the island's major grocery store (which also sells gifts and the like), he is one of the big buyers of my Outer Banks books and other OBX books that I publish. (Two or three times a year, we here in Richmond load up our SUV with a staggering number of large boxes full of books, which threatens to blow out all the tires, and, if we make it, deliver the books to store owners up and down the OBX.)
OK. That's the backstory. Now the story.
"We started jamming together in my studio under my house during COVID 19 because we could not play live anywhere, "Tommy explains. "We accumulated enough songs so we decided to form a band." But what to call it? "We did not have a name and could not think of one we liked."
Then came an impromptu jam at a small graduation party for a family friend.
"I introduced Ray Murray as 'Ray McAllister,'" Tommy said. "He said, "Tommy, it's 'Murray.' After that we knew we had our name."
Really? Did anyone else even know Ray McAllister?
"Absolutely not," he answered. "I didn't know Ray [Murray] very well at the time and knew his last name started with a M, but couldn't remember it. And 'McAllister' came out. . . . After I messed up introductions, they all immediately said, 'That is our name.' No discussion. They laughed about it for a couple of days."
Now it's stuck, and they are about to debut. So if you're near Ocracoke on Friday, do stop by and see them. DAJIO is a beautiful, white-tablecloth restaurant. It also has a covered deck outside, where all the action happens. "Our intention is to get the crowd dancing and have fun," Tommy says. "We are here for the fun of playing music."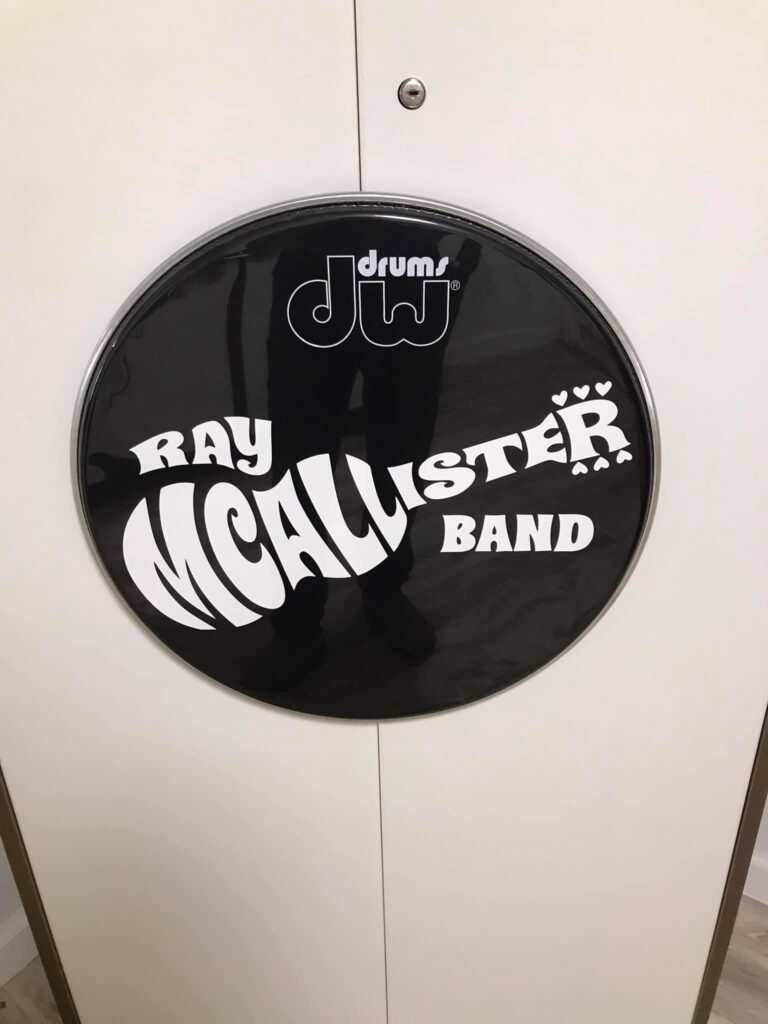 So stop by, listen to them, take pictures, and let me know how much you enjoy them. (And tell them Ray McAllister sent you.)
I'll be down NEXT week but not in time to hear them play on Friday.
In fairness, of course, I have never heard them play.
But I know I'm going to love them. They play the music of Springsteen, Seger, Mellencamp, Petty, Stones, Billy Joel, Delbert McClinton and others. All people I love.
I cannot wait to hear them.
I cannot wait til the royalties start coming in, either.