"Do any human beings ever realize life while they live it — every, every minute?"
A book can bring comfort in the age of coronavirus — and even recognition
[SPOILER ALERT: Details what happens to a main character ... for the seven people alive who don't know.]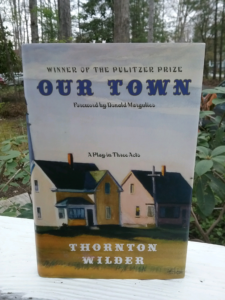 One of the social media questions floating around, as we're all stuck inside during the coronavirus quarantining, is "What book are you reading?"
Mine is Thornton Wilder's Pulitizer-winning play, OUR TOWN.
Why I'm reading it?
Because we were supposed to be seeing it in a couple of days, Tuesday evening, at a community theater out of state. Our oldest grandchild was performing in it, though she's only a high schooler — theater is her passion. (Plus Our Town is sort of the family play. My wife performed it in a classroom play years ago, I've always loved it, and our daughter does, too — she's got three copies of it at home and put up a wooden plaque she made with one of the play's many memorable quotes. Naturally her daughter would love it.)
I got the book again to read it — the last time may have been in high school — before Tuesday night's performance … which as you surely surmise is not going to come off at all now.
But it's far from a wasted read.
Our Town is painful, to be sure — if you have any sort of a heart at all. But it is so powerful and so meaningful and, these days, so relevant, that's it's worth being reminded of what's important in life.
It takes place in the smallest of small New Hampshire towns, Grover's Corner, just over a century ago.
We stroll around town with the easy-going Stage Manager, a narrator who gives us back stories about the townspeople — and forward stories, too, like one about the newsboy, who's up delivering the twice-weekly Grover's Corner Sentinel: "Want to tell you something about that boy Joe Crowell there. Joe was awful bright–graduated from high school here, headed of his class. So he got a scholarship to Massachusetts Tech. Graduated head of his class there, too. It was all wrote up in the Boston paper at the time. Goin' to be a great engineer, Joe was. But the war broke out and he died in France. — All that education for nothing."
Mostly the Stage Manager tells us about everyday life, about the students, and the doctor, and the housewives, and the newspaper editor, and the farmers, and the choir. Young George Gibb and Emily Webb become the focus, as they move through life from children to high school sweethearts to nervous newlyweds.
"I want you to try and remember what it was like to have been very young," the Stage Manager advises us. "And particularly the days when you were first in love; when you were like a person sleepwalking, and you didn't quite see the street you were in, and didn't quite hear everything that was said to you. You're just a little bit crazy. Will you remember that, please?"
It's Act Three that has become so memorable and probably won the Pulitzer Prize for this play.
(Reiterating that spoiler alert, however: Back off now if you don't want to know.) The townspeople have shuffled up to the the cemetery at the top of the hill for the funeral of young Emily. She has died during giving birth to her second child.
But it is the departed townspeople, the ones who have died in the last few years — the tombstones, in essence — who are commentating on the events below. In death, they have slowly distanced them from the town's life and are waiting for what comes next. ("We all know that something is eternal," the Stage Manager explains. "And it ain't houses and it ain't names, and it ain't earth, and it ain't even the stars . . .")
But Emily still wants to go back to her earthly life. She persuades the Stage Manager to take her back. She wants to choose a truly special day. Instead, he advises her, "choose the least important day in your life. It will be important enough."
She arrives for her 12th birthday and, while she can see them, family and friends can't see her. It is a joyful experience for her, remembering things long forgotten, noticing things never noticed.
After awhile, the moments lost begin to add up.
"Oh, Mama, look at me one minute as though you really saw me. Mama, fourteen years have gone by. I'm dead. You're a grandmother, Mama! Wally's dead, too. His appendix burst on a camping trip to North Conway. We felt just terrible about it – don't you remember? But, just for a moment now we're all together. Mama, just for a moment we're happy. Let's really look at one another!"
It is all too much, as Emily was warned it would be by the recently departed. "I can't. I can't go on. It goes so fast. We don't have time to look at one another. I didn't realize. So all that was going on and we never noticed. Take me back — up the hill — to my grave. But first: Wait! One more look. Good-bye, good-bye world. Good-bye, Grover's Corners … Mama and Papa. Good-bye to clocks ticking … and Mama's sunflowers. And food and coffee. And new ironed dresses and hot baths … and sleeping and waking up. Oh, earth, you are too wonderful for anybody to realize you."
And so comes her ultimate question, which Emily asks of the Stage Manager:
"Do any human beings ever realize life while they live it — every, every minute?"

"No. [Pause.] The saints and poets, maybe they do some."

"I'm ready to go back."
The play ends at 11 o'clock on the night of the funeral. The Stage Manager notes everyone in Grover's Corner is asleep and suggests audience members get a good night's rest, too,
It had a memorable first Broadway presentation, notes my edition's Afterword. "After a short stunned silence, broken by audible sniffles in the house, the audience offered an ovation."
The powerful work has gone on to become one of the most-performed American plays during its eight decades, always as new as it was in 1938, and as enthusiastically received. Perhaps more enthusiastically now. Some considered it quirky when it came out — there was no scenery, for instance, just chairs and ladders and the like. And of course, as an Associated Press article put it: "Speech-Making by 'Corpses' Unusual Feature."
But through the years, audiences have "got it," whether reading the play or watching it performed. (An otherwise fine 1940 movie, wanting a "happy ending," bizarrely concluded with a dream explanation. … Yeah, that worked well to explain Bobby's death in "Dallas," too, didn't it?) If for only those moments, we do realize life.
And thus it may be with the coronavirus pandemic.
Forced to our homes for the most part, we've come up with innovative ways to show we care — for family, for neighbors, for health providers … for each other. The display of genuine caring on social media, in stories we hear, on the news media, in neighborhood streets, has been extraordinary. We almost seem to be realizing life.
Just for a moment now we're all together.
This all is our town.