Writer Philip Gerard (who, coincidentally, just penned the foreword to my new "Hatteras Island") wins the super-prestigious North Carolina Award for Literature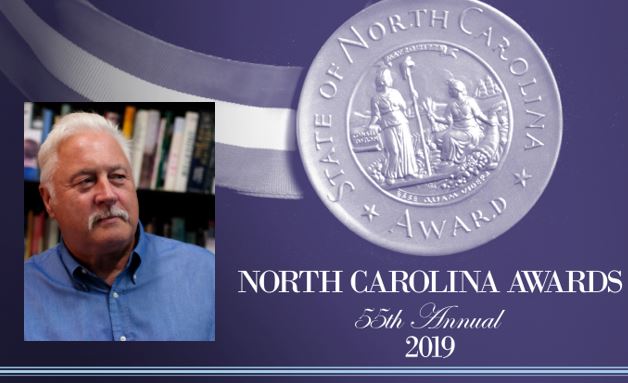 Noted author PHILIP GERARD, equally adept at non-fiction and fiction, has been named the 2019 winner of the North Carolina Award for Literature. The awards, established by North Carolina's General Assembly, are the highest civilian honors given by the state. They recognize significant contributions to the state and nation in the fields of fine art, literature, public service and science. The 2019 awards will be presented by the governor at an event Sat., Dec. 16, in Raleigh.
I'm pleased to say the award comes just a few months after the release of the updated, 2nd Edition of my HATTERAS ISLAND: Keeper of the Outer Banks — with a new foreword by, yes, Philip Gerard. (Excerpts below.) I cannot say with certainty that Hatteras pushed him over the finish line, but I can't say it didn't.
In fairness, however, I pass along this biographical note from N.C. Department of Natural and Cultural Resources, which announced the award. It seems he has had an extraordinary career.
Literature: Philip Gerard
Award-winning author Philip Gerard is perhaps best known for his work Cape Fear Rising, a novel about the Wilmington Coup of 1898. He is the author of 13 books of fiction and nonfiction, most recently The Last Battleground: The Civil War Comes to North Carolina. He has also written 11 documentary television scripts, numerous radio essays, several magazine series, and an award-winning radio drama. Gerard played a significant role in developing the Creative Writing program at the University of North Carolina-Wilmington shortly after joining the university's English Department in 1989 and has seen the program grow to become a thriving department. An avid musician, Gerard plays guitar, dobro, pedal steel guitar and banjo, and often incorporates bluegrass, folk and original music into his readings. His work, both fiction and nonfiction, shines a light on North Carolina's history, environment and culture.
Get an author-signed copy of HATTERAS ISLAND: Keeper of the Outer Banks, with free shipping.

NEXT SIGNING: 5-7 p.m. Thursday, Nov. 14, Barnes & Noble, Libbie Place, Richmond, VA. (Ray McAllister will be signing Hatteras Island and Ocracoke, among other books.)
Excerpts from Philip Gerard's Foreword to HATTERAS ISLAND: Keeper of the Outer Banks:
            Hatteras Island. It's a precarious place, a ribbon of
sand perched lightly between sound and sea, on the dual edge of storm and
beauty. The kind of place that sticks in your mind's eye and ear, the low, wide
sandy beaches hammered by thundering surf, the endless blue sky stretching
toward a horizon of restless gray water, rolling in from the ocean in high
broad combers that flash white with mare's tales on a windy day—which is most
days.
            On the sound side, the water stretches away in a
sun-spangled drift toward the mainland, a waterscape made three-dimensional by a
scattered fleet of fishing boats—and rafts of ducks, wedges of geese, flapping
gangs of seagulls, soaring ospreys, and solitary diving brown pelicans. 
            It's easy to romanticize the place, especially if you
only visit in summer, after the spring blows have finished and before the
Atlantic hurricane season turns everybody's attention to the National Weather
Service bulletins. The island sticks its chin far out from the mainland, almost
kissing the Gulf Stream, and routinely takes a hard punch from wind and water.
            Yet somehow it endures—season after season, storm after storm.

. . .
            Hatteras Island: Keeper of the Outer Banks is a gift not just to those lucky enough to visit the island but to all those people who, for the moment at least, find themselves far away from it, as I did in during those years in Arizona. In these pages, Ray McAllister brings to life not just the place but also the people who make it so special. For most of its existence, the residents of Hatteras Island worked in two main occupations: fishing and rescue—feeding people and saving them from shipwreck. In the middle twentieth century, the island became a magnet for visitors from all over the world, searching for a place that might inspire them, where they could feel apart from the workaday world and glimpse for a week or two—or if they were as lucky as I was, a whole summer—a place where the rhythm of life was not governed by a time clock but by tide and weather. Hatteras Island has served as the dramatic stage for novels and memoirs, ghost stories and pirate sagas, breathless accounts of mystery and survival. 
            This storied legacy provides McAllister with a rich well
of tales, drawn from old-time Hatterasmen and women and newcomers alike, salted
by his own personal history on the island.
            This is the kind of book to keep on your dashboard as you
come to the island by ferry, so you can gloss its pages while the gulls wheel overhead
ranting to be fed. It's a book to share with the family after a day on the
shimmering sand, as you sit glowing on the salt-grayed sunporch waiting for the
fresh-caught mackerel to brown on the grill.
            And maybe it's best read somewhere far away from Hatteras
Island, in the dreary chill of winter, next to a fire, as you daydream about
warm days of sunshine and sand and conjure that first, startling glimpse of the
Hatteras Light rising up out of the scrub pine and dunes, its probing light
welcoming you back to the island.
These are only excerpts from what is a beautiful, and generously long foreword. I am grateful to Philip Gerard for the words — and all his words. We all have been enriched by them.
Congratulations, Philip! Well-deserved.